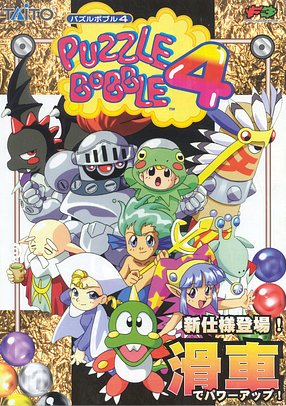 Puzzle Bobble 4/Bust-A-Move 4
Puzzle Bobble 4 is the final game in the series to be released on the Sony Playstation and the Sega Dreamcast, and the fourth Puzzle Bobble title to be released in arcades. It carries over a lot of features from the previous Puzzle Bobble 3, while also adding many new game mechanics and features. It is considered by most to the be the peak in the Puzzle Bobble series of games, and the best one ever released.
It was released for arcades in December of 1997, and later released on home console Playstation in August of 1998 in Japan and North America, and April of 1999 in Europe. Later, the Dreamcast version was released in March 2000 for Japan, May of 2000 for North America and June of 2000 for Europe. A PC port was released in January of 2000 also.
There was also a Game Boy Color port, which was a little different, released June of 1999 in North America and April of 2000 for Japan. The Europe version was also released close to this time.
It originally ran on the Taito F3 System.