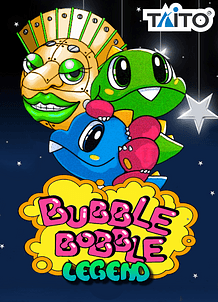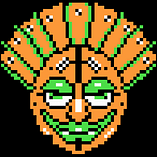 Willy Whistle
These wizards will pace back and forth throwing rebounding potion bottles at the player when in their line of sight.
THIS PAGE IS UNDER CONSTRUCTION
Madam Luna
AKA Full Moon Madame Luna, She is the Queen Of The Night. An evil mechanical entity that lives in the deep space of Bubble World. She has stolen the magical rainbow bubbles that bring light to the world, and is believed to be responsible for the dissappearance of many baby bubble dragons over the past few months. She flies about the screen blowing kisses and throwing love-hearts around her which kill on impact. Only upon defeating her will light return to Bubble World.
Warurin
They are evil bubble dragons that spit fireballs if they see the player enter their line of sight. This can be pretty deadly.
Bub
Bub is one of the two heroes of this adventure. Along with his brother Bob, he is on a quest to retrieve the stolen rainbow bubbles that allow the sun to rise in Bubble World and defeat the evil Queen of the Night, Madam Luna.
Let's take a look at the characters in the game! There are two heroes, like most Bubble Bobble's, and you'll probably recognise them right away.
Bob
Like his older brother Bub, Bob joins him on his quest to retrieve the rainbow bubbles that were stolen by the evil Queen of the Night, Madam Luna to restore the dawn to Bubble World.
Bubble Bobble Legend is a fan-game for the Nintendo Entertainment System (NES). It was originally released on Christmas day in 2019 as a digital download on Twitter, and since then it has undergone several revisions to improve level design, graphics and plot. As of 2022, the final revision to the game has been made and is to be released as a physical cartridge with box and booklet.
The game follows the exact same structure as the original Bubble Bobble on the NES, the fundamental gameplay remains identical, but has entirely new levels, enemies, music, story, and graphics making it a new adventure for our heroes Bub and Bob.
The light in Bubble World is created by magical rainbow bubbles. They join together and form a special light bubble that allows the sun to shine.
The story of this game begin one night when Bub & Bob notice that the morning never comes. The sun being long overdue, the night simply did not seem to end. Residents of Bubble World became concerned, fearing the morning would never return. As it turns out, Madam Luna, the Queen of the Night, had stolen the rainbow bubbles that bring light into Bubble World. Her goal was to create a world of eternal darkness, a never-ending nightime of which she would be ruler and Queen. The Rainbow Bubbles had been taken away to a void in space, where Madam Luna now kept them under her guard. Madam Luna has always been a fearful enemy. She has been believed previously to be responsible for the disappearance of baby bubble dragons, but nothing was ever proven. This act of evil, of stealing the daylight by taking the rainbow bubbles away was apparent, and Bub and Bob decide to go on a quest to bring the
bubble back, and return light to Bubble World once and for all.
Invader
They move side to side heading downwards where possible while constantly firing lazer beams downwards.
FULL SPECIES PAGE
Regular Monsters
These are the monsters types you will find on all the normal levels of your quest.
Boss Monsters
There is only one boss in this game. This is all the information on the main villain of the storyline.
Denkyu-Kun
This lightbulb bounces around the screen as if it's on a pogo stick. They can reach fairly high when they leap.
Nimbus
They fly about in a swaying motion somewhat unpredictably. They often travel up or down through the vertical screen wrap.
FULL SPECIES PAGE
Slider
They bounce off the walls like rubber balls making them incredibly unpredicatable. Be prepared to get hit by these occasionally.
Ruby
These canon monsters are basically mouths on wheels, and they will spit chattering teeth at you if you enter their line of sight.
Zen-Chan
These are the first monster you will encounter. They are clockwork robots that jump around the levels trying to collide with you.
There's a bunch of monsters you will encounter on your quest and they will all try to thwart your attempts to restore the morning to Rainbow World.
Listed below are all the monsters you will encounter on your adventure.