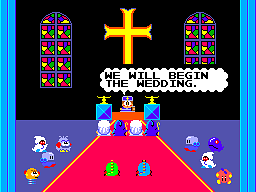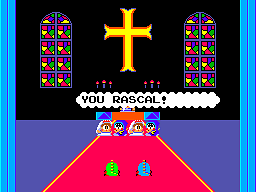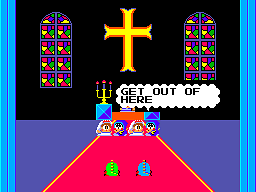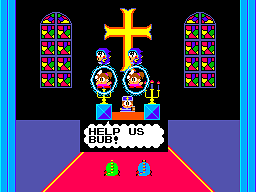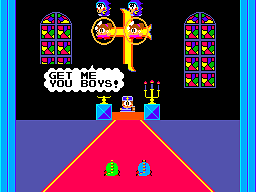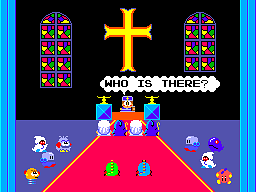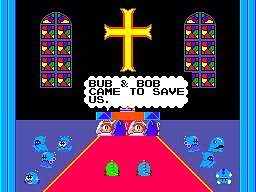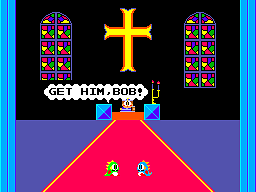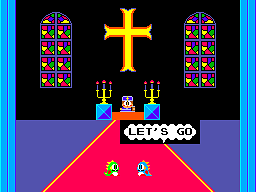 This leads to another 100 rounds, which are mostly repeats of the previous 100 except with tougher monster selections.
In anger, the two sons, in a panic, trap Pab and Peb in giant bubbles and drag them away up through the ceiling.
It is revealed in Final Bubble Bobble that Grumple Grommit has two sons, and it was for these two sons that Grumple Grommit stole Bub and Bob's girlfriends in the events of the original Bubble Bobble. The two sons were to marry Pab and Peb, and most likely would have if Bub and Bob didn't turn up in the nick of time to stop the wedding. The names of the two sons are never revealed, though some people believe that Dreg, Darkness Drunk and even Super Drunk Jr. may even have been them later in life. This is purely speculation however. Unlike most willy whistles, the two sons wear blue and purple robes instead of green and yellow.
Bub and Bob hear their pleas for help and continue onwards, giving chase to the two sons.
Upon noticing that Bub and Bob have arrived, Peb and Pab call out to them for help, begging to be saved from the forced wedding. The monsters attending the wedding are clearly afraid that Bub and Bob have made it to the ceremony and disperse.
After beating Round 100, following the defeat of Grumple Grommit, Bub and Bob arrive at a chapel located in the Cave of Monsters, just in time to catch a wedding ceremony being performed by a priest. The wedding taking place is between the two sons of Grumple Grommit and the two girlfriends of Bub and Bob. It is clearly a forced wedding, as Peb and Pab have no desire to marry the two sons.